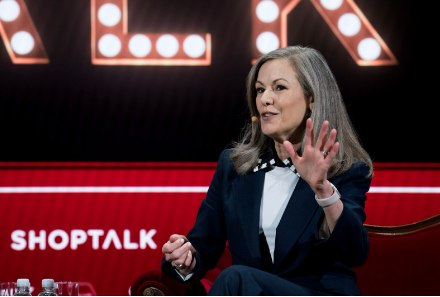 "This was the most magnificent and seamless conference I have ever witnessed."
Most exciting this year was the introduction of Meetup; the biggest meetings program in the history of the retail industry.
For the first time ever, the Shoptalk community at large had the opportunity to use our incredible tech platform to request a bespoke schedule of meetings tailored to their exact collaboration requirements: whether they were looking to meet potential customers and partners; discover new products and solutions, uncover the hottest startups, launch products, make announcements, share news, or just make new friends.
Through Meetup, an eye-watering 50,000 one-to-one meetings were scheduled within our community of 10,000 retailers, consumer-facing brands, technology innovators, investors, analysts and journalists.
And these weren't speculative connections. Every single one of those 50,000 meetings was double opted-in, meaning the people sitting on both sides of the table were there because they recognise the potential of that connection to be transformative for their business. Meetup's introduction was nearly universally praised, with over 90% expressing satisfaction with their meetings. In the words of one retailer: "Can we talk about this level of organization? Sounds like a symphony of retail, commerce, and business talk."
But Meetup wasn't the only smash success at Shoptalk.
Our agenda featured 80 different sessions, each one having been carefully curated to address a specific element of retail's digital transformation. That's over 50 hours of perspectives and insights delivered by 275 speakers – two-thirds of whom were CEOs or other C-level.
Our 12 amazing keynote headliners included the CEOs of Pinterest and Foot Locker, who have each been in their roles for less than a year and provided exclusive looks into the go-forward strategies for their businesses. Joining them were the CEOs of Verishop and Brilliant Earth, two disruptive businesses that are rewriting the rules of shopper engagement, and retail industry titans including the CEOs of Walmart International and Levi's, and the Founder of Dreamworks.
Additionally, more than 650 world-leading tech companies including Meta, Google, Amazon, Salesforce and TikTok sponsored Shoptalk, displaying the latest retail innovations in our enormous exhibit hall.
To cap it all off, our annual and much-anticipated White Out Beach Party featured a special guest appearance from none other than the legendary Nelly. And yes, it did get hot out there.
Shoptalk will return to Las Vegas in March 2024 and will be expanding to a second US event ("Shoptalk Fall") in Chicago in October of 2024. In the near term, look forward to hearing about Shoptalk Europe, taking place this May in Barcelona.