As the days grow shorter and the nights colder, there's an electrifying buzz in the air at Hyve. It's not just because of our upcoming projects or the end-of-year hustle. No, it's the anticipation of our annual Halloween party! This year, we've gone all out to ensure we have a night full of laughter, frights, and awesome memories. Let's dive into the ghoulish details.
A spooky transformation
The fun started as soon as we walked through the Hyve lobby doors. Cobwebs (fake, of course) on every table, bats propped up on the walls, and Halloween beats were playing, giving us that awesome spooky vibe. Our social committee really outdid themselves, transforming our everyday workspace into a haunted mansion spectacle.
Show-stealing costumes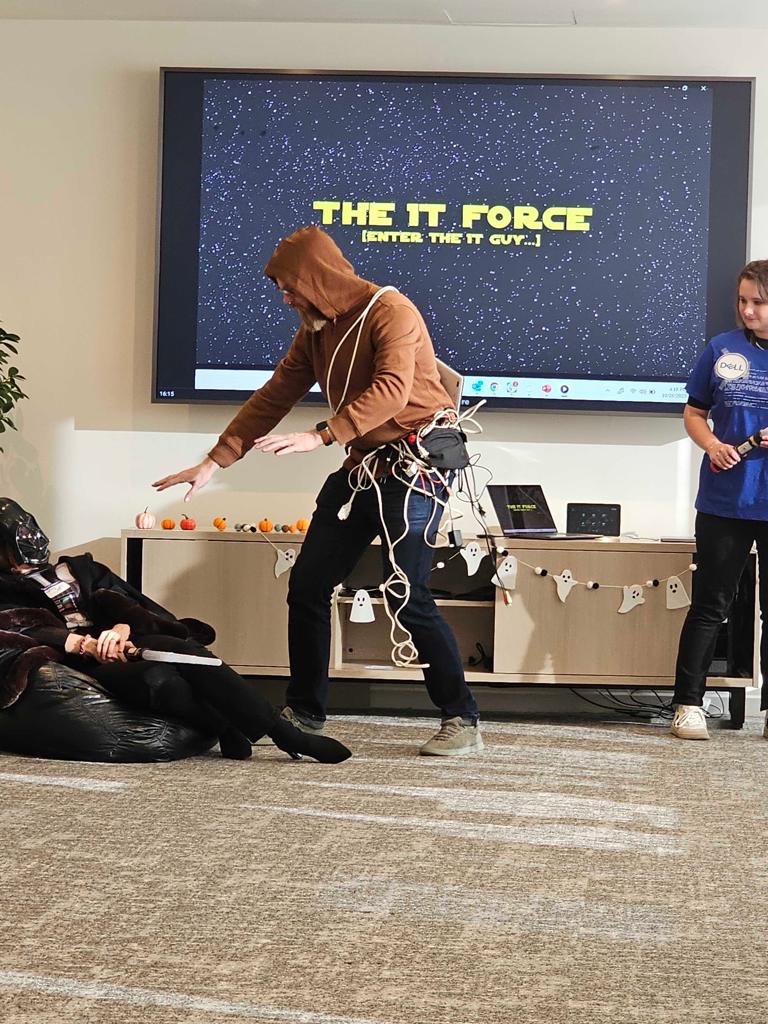 Every year, we're amazed at the creativity our team showcases through their costumes. This year was no exception. Here are some highlights:
'We are Halloween' -- a group of Iconic Halloween characters that convened in one spooky scene... scared of clowns? Oops!
Star Wars Tech Migration: In a galaxy not so far away, two mighty empires clashed in a battle for digital supremacy. The Dell and Apple computers locked in an epic showdown for control over the office.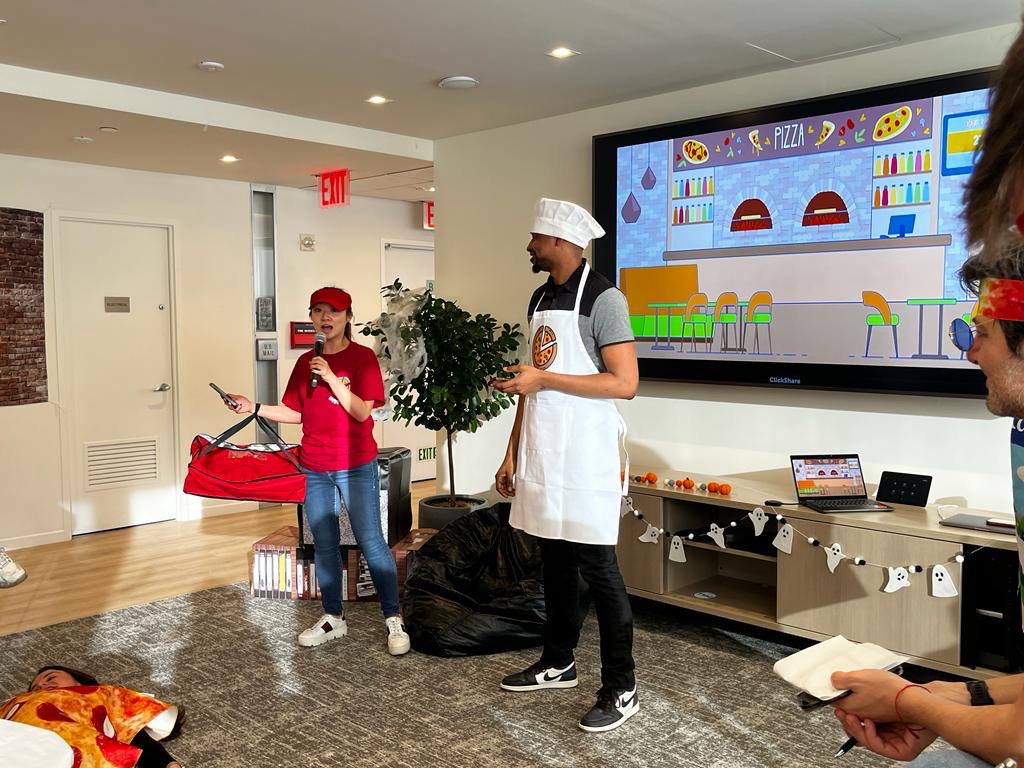 Iconic New York Pizza was a team where we were welcomed to the Hyve Fresh Pizza Shop. They used fresh delicious thinking and saucy connections to deliver brilliant spicy work. Their buzz may have been a bit cheesy, but we were sure obsessed with their pies.
We were enchanted to meet this team... International pop-star Taylor Swift and Kansas City Chiefs tight end Travis Kelce have recently gone public with their relationship and made a pit stop at the Hyve NY Office.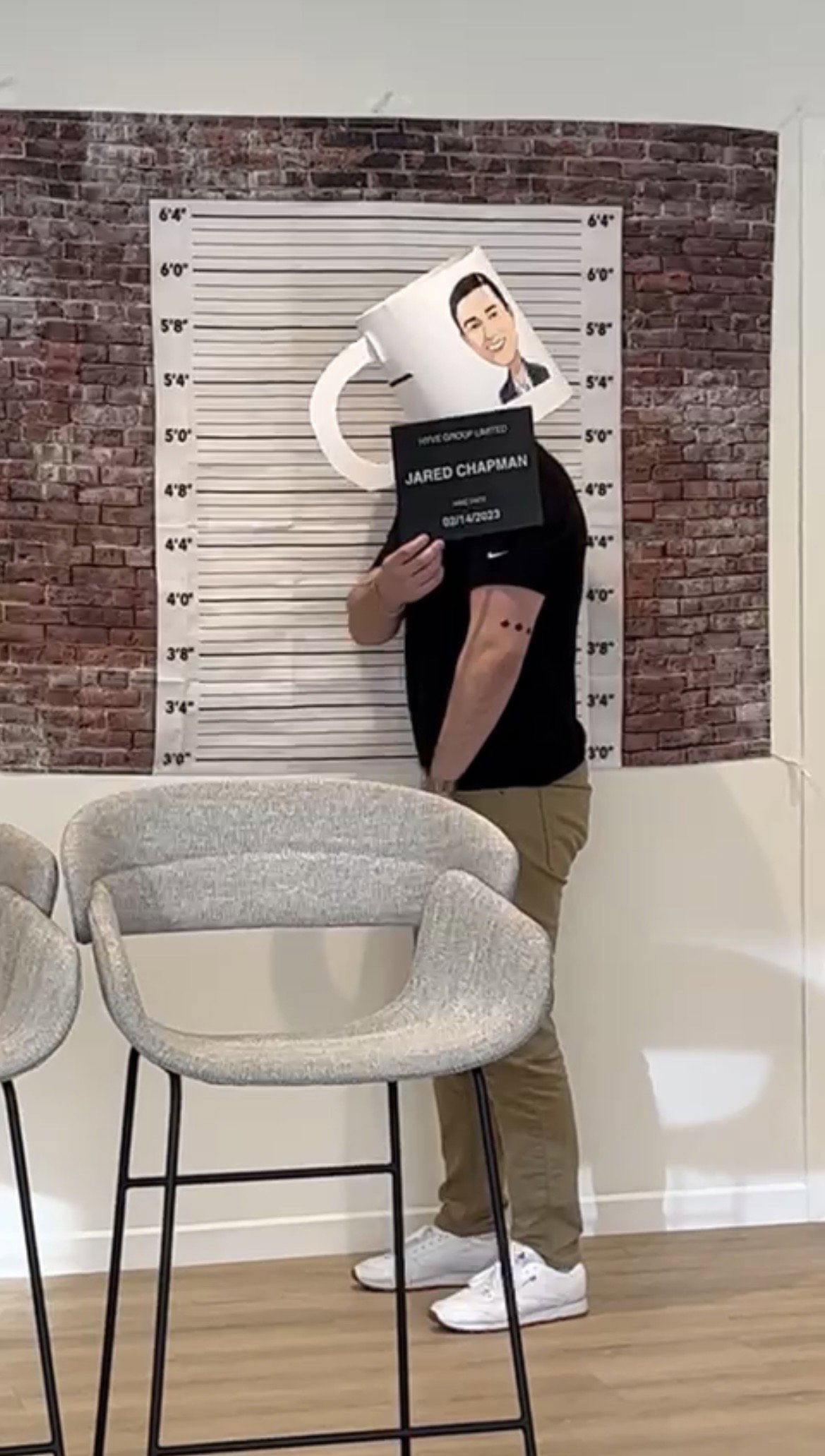 Meeting Room Icons: Before we moved back into the remodelled office, the team voted for the diverse and iconic figures they wanted to be represented in each new meeting room. And during Hyve's Halloween party, those figures came to life.
Hyve Mug(shots). Picture this... It's 9 am inside Hyve County's kitchen cupboards, where these mugs are serving time. They're each booked for a life sentence, but they're up for early release for good caffeinating behavior.
Now do you believe us when we say the New York Hyve team takes Halloween VERY seriously!
Our amazing Hyve judges
This year we had four totally spooktacular judges who came together with keen eyes and a sense of fun, ready to reward creativity and celebrate the festive spirit of the team. Jose, Ellie, Ed, Eric and Karina gave a very groovy take on judging, and they sure made it one to remember!
Of course, every competition needs a winner...
At Hyve, we believe everyone is a winner, but the as we mentioned we take Halloween VERY seriously so, a winning team had to be declared, and the 2023 winners were...
We are Halloween, the iconic Halloween character!
A big thank you
This event would not have been possible without the dedication and spirit (pun intended) of our social committee. Your hard work ensured that this was a night none of us will forget – no matter how hard we try!
Happy Halloween from team New York
As the witching hour approached and our Halloween bash came to an end, we were reminded of the incredible community we've built here at Hyve. It's not just about work; it's about coming together, having fun, and creating memories. As we hang up our costumes and get back to our desks, there's one thing we know for sure: Halloween 2024 has some big shoes to fill!